Our Story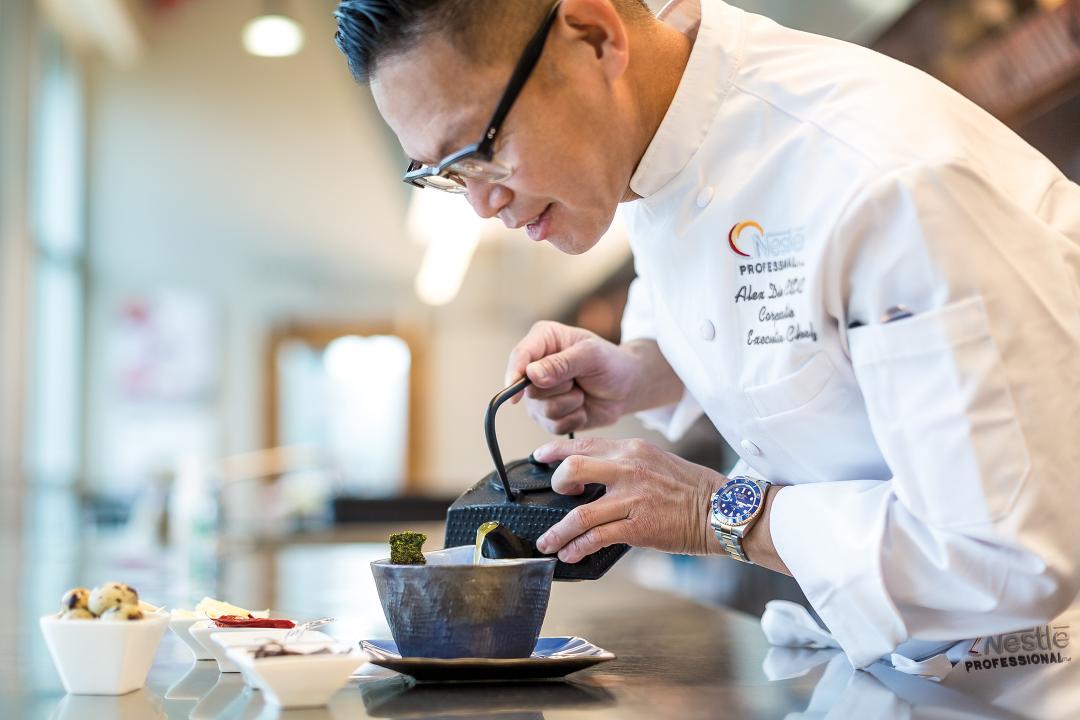 A Fresh Idea
The year was 1951. Pabst aired the first beer commercial on TV. Tupperware parties took suburban America by storm. And Dr. L.J. Minor was ready to start a food revolution. A chemist who was obsessed with food and innovation, he had a plan to make cooking easier, and food more delicious. He would do the prep, the manual labor, so chefs could spend their valuable time on the part where the magic happens: perfecting recipes and making innovative, delicious food. So, he borrowed a mixer, went into the kitchen, and created a chicken base.
With no investors knocking on his door, phase two of this fresh idea came to life: turn the traditional sales and marketing model on its head by hiring his target audience: chefs. Chefs who personally appreciate the value of his innovative product to introduce it to their fellow chefs. This chef-driven concept was radical. And that is the foundation of Minor's: a partnership between those making the product and those using it. Chefs loved the quality product they were getting, and Dr. Minor loved seeing those chefs cook amazing food. And the rest, as they say, is history.
The Chef-to-Chef Difference
Fast forward 70 years, and the Minor's portfolio has grown to include dozens of other chef-inspired, chef-friendly gourmet innovations, including flavor concentrates, and other ready-to-eat sauces. It's what hasn't changed since Day 1 that makes us the most proud: premium products expertly crafted from high-quality ingredients, and brought to you by the chefs who use them every day. It's the Chef-to-Chef Difference: our product is not an ingredient, it's a partnership. With you. Think of us as your sous chef, your kitchen sidekick, your friend from culinary school.
 
The Ready-to-eat Advantage
Ready-to-Eat, and ready-to-enhance. Take your signature recipes—and your next great idea—to the next level, without the prep work. We craft quality products from premium ingredients with the highest safety standards. That means our products are ready to use the moment you open them, without the added step of having to cook them. It's one step we can take off your hands to streamline your workload on a daily basis. We've been there, so we get it.
Meet Us in the Kitchen
Our chefs love to tinker, create, and perfect amazing flavor profiles. We make the products we want to use, so we know you will love them too. So let's talk. Let's share ideas, inspire each other. We can't wait to see what you will make next.
---
Looking for a National Representative?
Reach out to see how our highly experienced team can help you find business solutions for any of your National Accounts food service needs
Our Heritage
1951

Dr. L.J. Minor developed the first refrigerated, meat-first food base.

1952

MINOR'S® became the first manufacturer to hire chefs to sell food products.

1970

MINOR'S® began loyal sponsorship of the American Culinary Federation.

1977

Dr. L.J. Minor successfully fought to elevate the status of chefs from the "Services" to the "Professional" category in the Dictionary of Official Titles.

1990

MINOR'S® created and began sponsoring the ACF Chef Professionalism Award

2016

Ready-to-Eat innovation launched, allowing chefs to use MINOR'S® products without needing any further heating or preparation to achieve food safety.

2018

Greenleaf Pestos launched, made from sustainably-farmed basil grown less than five miles from the MINOR'S® production kitchen."

Today

Minor's is the market share leader and the most trusted base brand.