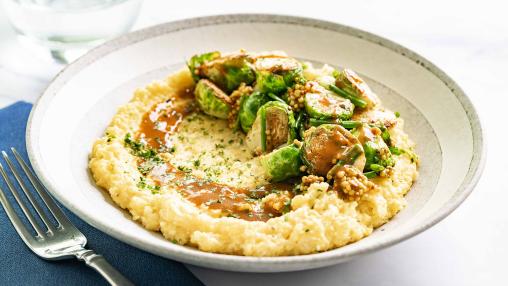 Vegan Alfredo Polenta with Herby Brussels Sprouts
Ingredients
Polenta, course ground

Water

White onion, small dice

Garlic, minced

Minor's Classical Reduction – Vegetable, prepared Demi sauce

Vegan Parmesan cheese

Oil

Brussels sprouts, halved and blanched

Whole grain mustard

Parsley, chiffonade

Chives
Build It
In a 4 qt pot, add polenta and boiling water. Cover the pot and let sit overnight.
In a wide, medium sized sauté pan over medium heat, add oil, onions, and garlic. Sweat aromatics until fragrant, about 3-4 minutes.
Add soaked polenta and vegetable broth, stirring frequently, about 6-8 minutes.
Add vegan alfredo and season with salt. Continue to cook until polenta is soft, about 3-5 minutes.
Remove pan from the heat, add vegan parmesan and black pepper. Set aside.
In a sauté pan over medium high heat, add oil and when it shimmers add the brussels sprouts and cook until golden brown, season with salt and black pepper.
Remove pan from the heat and toss with whole grain mustard, parsley, and chives.
Serve polenta in a shallow bowl. Top with brussels sprouts mixture, and finish with the Vegetable demi.