Chef Alex Dino
Growing up in the Philippines, dinner for Alex Dino sometimes consisted of only rice and MAGGI® Seasoning, a popular condiment with an umami flavor resembling soy sauce and beef broth. "That's the flavor of my childhood," says Chef Alex. "We were a poor family, but that seasoning with the red and yellow label was always part of our meals."
Decades later and a world away from Manila, Chef Alex landed an interview with Nestlé Professional North America, which included a cooking test. His nerves instantly subsided when he saw the basket of ingredients, and a familiar red and yellow bottle: MAGGI® Seasoning. He did not realize Nestlé was the company that brought his favorite seasoning to the United States. "I saw it and I said, 'Thank you, Lord,'" he remembers. "Then I asked if I could take it home—that's how emotional my response to seeing it was." Chef Alex describes his style of cooking as adaptable; sometimes opting for no-frills, clean cooking that allows the ingredients to shine, and sometimes pushing the envelope. "Sometimes I do the most simple form of cooking," he explains, "but I'm not going to shy away from being really technical in cooking."
When not in the kitchen, Chef Alex never stops moving. He found out purely by accident that he can run really far-- really fast.  A bike crash years ago left him with a broken arm and sidelined from competitive cycling. Bored and restless, he did what only he would do when told to take it easy: he signed up for a 10k running race. With his arm in a cast and no training as a runner, he placed 3rd. The next week he ran a half marathon and placed in the top 10 for his age group, and there was no stopping him. He's lost count, but he has completed more than two dozen marathons.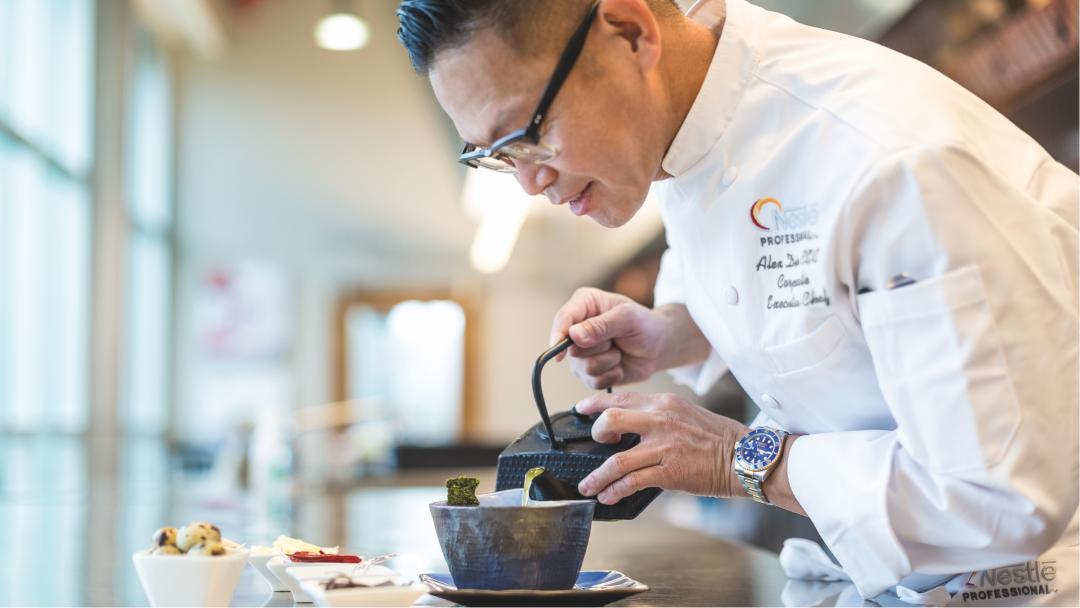 More About This Chef
Favorite Food
Any and all fresh seafood
Favorite MINOR'S® Product
Toss-up between MINOR'S® Herb de Provence Flavor Concentrate, Au Jus Prep and Culinary Cream!
Geographic Region
NY, New England
Education/Training
Art Institute of New York, NY
La Bernardin, New York, NY – Apprentice

Major Achievements/Awards
Grand Champion, Sears Chef Challenge
Top Corporate Dining Executive Chef, Fortune Magazine
Author, Modern Tofu
Work History
Compass Group/Chartwells Higher Ed, Rye Brook, NY – Regional Executive Chef
Gate Gourmet, San Francisco, CA – Executive Chef
Sachet d' Epices Catering, Norwalk, CT – Executive Chef
Northern Westchester Hospital Teaching Kitchen, Mt. Kisco, NY – Chef Instructor
Culinart, Inc., Norwalk, CT – Executive Chef / Manager
Marriott Hotel, Stamford & Trumbull, CT – Banquet Chef
Alta Restaurant, New York, NY – Chef De Cuisine