A Deep Dive
In-depth analysis of your kitchen
Insight based on our chefs' vast and diverse experience
Access to latest research & trend data

Your Ideas Brought to Life
Menu Ideation: new ideas that keep up with ever-changing demands
Product Utilization: successful concepts using MINOR'S® incredibly versatile products
Recipe Validation: bring your ideas to life and test them with consumers

Continued Support
Chefs always on-call to support you
Ideas for cross-utilization of ingredients throughout dayparts
Ensure each diner becomes a loyal customer
The Chef-to-chef Difference
When you become a MINOR'S® customer, you are inviting us onto your team, and we don't take that lightly. Your contact isn't a salesperson, it is a team of talented chefs, each with expertise in multiple industry segments. They have the knowledge, experience, and insights to help you succeed. That's the Chef-to-Chef difference.
Our team provides valuable insights in the form of:
Consumer-driven research
Menu and flavor trend insights
Recipe Ideas and Merchandising Solutions
Front- and back-of-house operational expertise
Vast product knowledge
Nutrition and health resources
Part of our comprehensive analysis of your needs is our recipe validation testing. This enables us to test new concepts with your target audience, before they ever hit your menu. We take the guesswork out of menu updating.
With MINOR'S®, I know I'm not just getting quality products, I'm getting the support of a team that is incredibly passionate about their products. They always have new, on-trend menu ideas that our students get excited about, and help me maintain the high standard of quality our students expect.

Chef Michial Neal, University of Lynchburg Dining Services
---
Where the Innovation Happens: Spotlight on Cleveland
When we say we know where your food comes from, we mean that quite literally. Not only are MINOR'S® products developed at our facility in Cleveland, Ohio, most of them are made right here in America too. It's also where it all began, back in 1951. Food scientist L.J. Minor moved his wife and six small children to Cleveland, and made his dream come to life. He could have never imagined the impact his innovation would have.
Today, the Nestlé Professional Customer Innovation Campus (NPCIC), is a 67,000 square foot culinary mecca, where chefs, food technologists, and product developers work hand-in-hand with chefs from around the country to generate creative branded food and beverage solutions that address needs unique to each kitchen. Our team knows firsthand how to balance all the demands a chef faces, not just from a culinary and nutrition standpoint, but also operational and marketing issues, while keeping profitability top of mind.
The NPCIC utilizes a unique, flexible kitchen design which can be customized to mirror your own operation, so you can see firsthand how our products can streamline your workflow, and be seamlessly incorporated into your operation. We can help you decide how our products can work best for you, creating flavorful dishes that let your vision shine, in the most efficient manner possible. Come to our test kitchen—in person or virtually—and let's get cooking. Our chefs created our products here. Now we're ready to help you take them to the next level.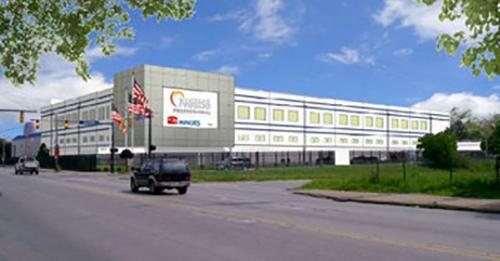 Commitment to Sustainability
The Nestle L J Minor Factory in Cleveland is a Zero Waste facility; absolutely nothing goes to the landfill.